Counting the cost, and benefits, for business continuity – a Micro Business Perspective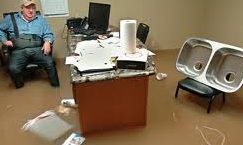 This blog looks at Business Continuity Management at the micro business perspective. For those of you wondering what a micro business is well it is at the bottom end of the Small Medium Enterprise (SME) designator that is so often used. This may seem a trivial point but the reality is that most micro businesses will never reach the exalted status of being an upper end SME. This is because such an SME is defined, in EU law, as a business with up to 250 staff and a turn over of €50 million.  To put this into context the same EU law defines micro businesses as having less than 10 staff and a turnover of under €2 Million.
In the UK SMEs are a major employer and a significant part of the economy. This is even more pronounced when you look at it from certain regional perspectives outside of London or other major cities. According to the Federation of Small Businesses (FSB) SMEs account for 99.9% of all businesses in the UK, employ 24.3 million people, cover 59.3% of private sector employment and have a combined turnover of £3,300 billion. Micro businesses play a substantial part in these impressive statistics.
So what is the point? I suppose it is that in the main this seems to be a part of the business environment that is untouched by BCM.  There have been attempts to engage with upper end SMEs but with limited results, we know this from experience. It is less clear that such efforts have extended to micro businesses. Yet such businesses are clearly not immune to business disruptions. In fact they are more vulnerable due to limited resources, including cash and time, as well as extensive competition ready to step in. On a macro scale it has to be acknowledged that the economy as a whole is entirely insulated from the failure of a single micro business and, as the entire sector is unlikely to go under at the same time, that may limit the desire to raise this issue with this aspect of our economy. Alternatively micro businesses are best equipped to implement fully embedded, practical BCM that commands top management buy in, although many owners currently perceive it as an overly bureaucratic process even when offered free support.

Micro businesses form a part of the wider supply chain to top business as well as funding a big slice of their customer base.  It is therefore in the interests of major businesses and the Government, through tax receipts, that micro businesses survive and thrive.  Perhaps as an industry we too now need to look more closely at how we engage with our micro businesses over issues like Organisational Resilience.  A tricky proposition, as it is neither glamorous nor likely to be lucrative, and often the horse, when taken to the water, doesn't want to drink.